Note: The board is scheduled to have a meeting every week of June due to the high volume of budget decisions that need to be made before summer break. Some of these decisions include the adoption of next year's school budget and a plan to address the structural deficit and next year's anticipated cuts of $58M. Big decisions are about to be made and NOW is the moment to pay close attention and get involved. If you're interested in learning more about OUSD's budget and one-time COVID relief funds, sign up for a 30-minute conversation with me here.
Item #21-1006
Tonight, the Board will be voting on the approval of the Expanded Learning Opportunity Grant Plan to meet the June 1st deadline. Under this plan a total of $27M of one-time COVID relief state funds would be invested in the areas below. These funds will expire by August 2022.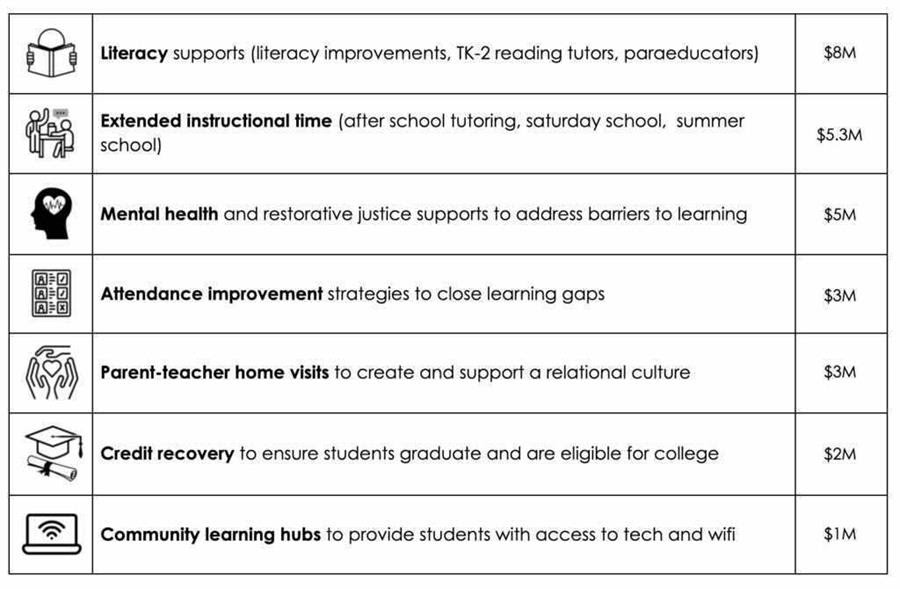 To ensure that these services are being distributed equitably, the District will be using a Multi-Tiered System of Support (MTSS) that will identify which schools need the most support, given the resources that already exist at their sites. They will use the following data to determine level of need: 1) Chronic Absenteeism 2) Participation in our Free and Reduced Lunch Program and 3) 504 Plans. To inform the academic needs of the students, they will look at: 1) Local Reading Assessments 2) Local Math Assessments 3) Language learner screeners; 4) High School Graduation Rates, A-G Completion and Pathway Participation and 5) 504 Plans. Much of this data is available on the ousddata.org website, but the district has not yet published the formula that they are using to determine need.
OUSD's Equity Office plans on holding information sessions to support families to be advocates for their children's needs. They also plan on using their existing Parent Student Advisory Committee (PSAC) and the subcommittees to hold information sessions for families to know how to access additional support at school sites. 
Ensuring that these dollars are being publicly tracked and are being measured for impact will be key. As Director Sam Davis pointed out "We need to make sure all COVID relief funds are distributed in a way that students of highest need that these dollars were sent to support, and provide transparency to the public on how they are spent."
While the Multi-Tiered Systems Support seems like a promising way of equitably distributing these one-time COVID funds, OUSD must take concrete actions to ensure transparency. GO calls on the district to:
Publish the formula they are using to identify and explain how different factors are weighted to identify which schools will receive additional funds.
Publish the list of schools in each tier of support (schools have already been notified but this information has not been publicly released).
Over time, release a public dashboard that tracks the COVID funds spent and shows which schools and which student groups receive the funds.
Demonstrate the outcomes and impact achieved by these investments.
Meaningfully engage families in the decision-making process and provide regular updates.
Item #21-1188
The Board is presenting their Third Interim Report, a financial report of their finances as of April 30, 2021. When OUSD submitted its 2nd interim report in March, the district self-identified as "qualified", which means that OUSD may or may not meet its financial obligations for the current or two subsequent fiscal years. In response, the Alameda County Superintendent of Schools and the County Trustee, specifically asked the District to identify how the District will address the structural deficit and next year's anticipated cuts of $58.5M. 
OUSD recognizes that the District is not ready to provide exclusive language at this time regarding "how" it will address its deficit. However, they "remain committed to balancing the District's budget and are progressing in developing its strategy which includes analyzing and addressing a growing list of options and strategies."
While the District is currently solvent and is not likely to become insolvent during the current year, the District must take action in the coming weeks culminating on or before June 30, 2021 in order to remain solvent in the next two subsequent years. Here are some of the strategy options currently on the table to discuss and address the structural deficit:
Coordinated Bell Schedules Across All Schools
Saturday School in all Possible Schools
Increased Free and Reduced Lunch Participation
Lease Sites that are Currently or Will Soon Become Vacant
Reduce Energy Costs
Alternate Safety Plan
Cohort 3 Recommendation for the Citywide Plan
Despite the recent influx of one-time COVID relief funds, the Board still must make urgent and difficult decisions to ensure a financially stable district that can guarantee a quality education for future generations of Oakland students. OUSD has had a historical structural deficit that must be addressed, costs continue to exceed funding from the state. While there is an influx of money that's been coming in to recover from COVID, the district must continue to figure out how to identify ongoing savings.
Item #21-0971
Last week, OUSD proposed a solution to address Oakland's historical  approach to reading instruction that has been fragmented and produced deeply unequal outcomes: just 20% of Black students and 23% of Latino students in elementary grades are currently meeting grade-level standards. 
Over the last couple of years, OUSD began to pilot a more rigorous way of teaching students how to read using the "EL Education" curriculum. A total of 19 elementary schools in OUSD, including nearly 300 teachers and 6,300 students have piloted this approach and tonight the Board will continue to discuss the recommendation to  adopt this curriculum districtwide.
While there is strong evidence that this new curriculum will help more Oakland students learn to read, significant challenges remain as the district makes such a big transition. 
In order for this curriculum to close achievement equity gaps, the district must have a strong and equitable implementation plan across our schools. Some schools have the infrastructure and resources  in place to successfully execute and implement this rigorous curriculum with less implementation support, while others lack the necessary infrastructures (i.e. professional learning structures, literacy coaches, long-term teachers). This new approach requires teachers to learn new skills and spend significant time planning and preparing on a weekly basis. If support isn't built into the plans equitably, schools without the infrastructure will see less gains in student achievement by design.