Lea en español a abajo
Dear GO Community,
Yesterday was a monumental moment in Oakland education, as immigrant families came together to advocate for their right to vote in school board elections. Oakland City Council approved of the non-citizen voting measure, adding it to the ballot for voters to decide in November.
With support from Councilmembers Kalb, Reid, Taylor, Bas, Thao, and Kaplan, the measure was accepted at a special city council meeting on June 21, 2022. During public comment at the meeting, multiple immigrant parents of Oakland students as well as coalition members raised their voices, expressing the importance of adding this measure to the ballot this fall. 
Yasmin Mata, a parent and immigrant in Oakland, spoke out saying, "Why am I here? I want to support non-citizen parents, like myself, so that they have the right to vote in school board elections. We are the advocates of our children. We contribute by paying taxes and we deserve political representation. I don't wat to feel the discrimination and rejection anymore.  That's why the power to vote is important – to decide and elect our representatives."
Coalition members Priority Africa Network, Lation Task Force, Latino Education Network, and Unity Council also had the opportunity to speak during the meeting, affirming the need for this measure to pass. Supporter of the measure, Cesar Cruz with Homies Empowerment, called on the city council to take action, stating that "If you stand for black lives matter, then stand for African immigrants and Afro-latinos. If you stand against AAPI hate, then stand with Asian immigrants and their right to vote. I've been a taxpayer for 30 years but have never been able to vote. You can change that. Make history, City Council. Stand on the side of what is right."
Under current law, non-citizen parents of children that attend Oakland public schools do not have the right to vote in school board elections. This means that over 13,000 parents in Oakland schools are disenfranchised and without a political voice in key decisions that impact their children's education. 
With many other cities in the nation taking steps toward expanding these rights to non-citizens, Oakland parents and partnering organizations have been rising up to demand the same rights be extended to their community as well. 

__________________________________________________________________
__________________________________________________________________
Estimado/a Miembro de la comunidad,
Ayer fue un momento monumental en la educación de Oakland, cuando las familias inmigrantes se unieron para abogar por su derecho al voto en las elecciones de la junta escolar. El Concejo Municipal de Oakland aprobó la medida de votación de los no ciudadanos y la agregó a la boleta electoral para que los votantes de Oakland decidan en noviembre.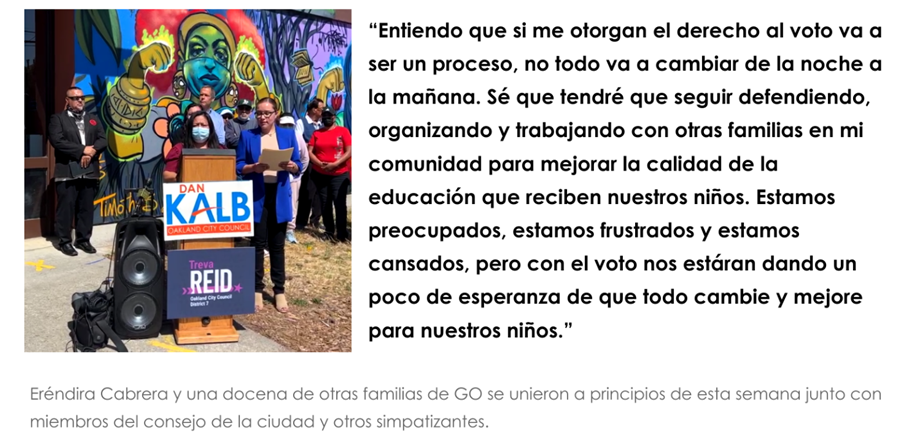 Con el apoyo de los concejales Kalb, Reid, Taylor, Bas, Thao y Kaplan, la medida fue aceptada en una reunión especial del concejo municipal el 21 de junio de 2022. Durante los comentarios públicos en la reunión, varios padres inmigrantes de estudiantes de Oakland, así como la coalición los miembros alzaron la voz, expresando la importancia de agregar esta medida a la boleta este otoño.
Yasmin Mata, madre e inmigrante en Oakland, habló diciendo, "¿Por qué estoy aquí? Quiero apoyar a los padres que no son ciudadanos, como yo, para que tengan derecho a votar en las elecciones de la junta escolar. Somos los defensores de nuestros hijos. Contribuimos pagando impuestos y merecemos representación política. Ya no quiero sentir la discriminación y el rechazo. Por eso es importante el poder de votar, de decidir y elegir a nuestros representantes."
 Los miembros de la coalición Priority Africa Network, Lation Task Force, Latino Education Network y Unity Council también tuvieron la oportunidad de hablar durante la reunión, afirmando la necesidad de que se apruebe esta medida. Partidario de la medida, César Cruz con Homies Empowerment, pidió al concejo municipal que tome medidas, afirmando que "Si defiendes las vidas de los Afro-Americanos importan, entonces defiende a los inmigrantes africanos y afrolatinos. Si te opones al odio de AAPI, entonces apoya a los inmigrantes asiáticos y su derecho al voto. He sido contribuyente durante 30 años pero nunca he podido votar. Puedes cambiar eso. Haz historia, Ayuntamiento. Ponte del lado de lo que es correcto."
Según la ley actual, los padres no ciudadanos de niños que asisten a las escuelas públicas de Oakland no tienen derecho a votar en las elecciones de la junta escolar. Esto significa que más de 13,000 padres en las escuelas de Oakland están privados de sus derechos y sin voz política en las decisiones clave que afectan la educación de sus hijos.
Con muchas otras ciudades de la nación tomando medidas para expandir estos derechos a los no ciudadanos, los padres de Oakland y las organizaciones asociadas se han levantado para exigir que los mismos derechos también se extiendan a su comunidad.