Lea en español abajo
Dear GO Supporter,
This election, Oakland voters are faced with big choices about the future of Oakland schools. With only one week until election day, it's crucial you have the resources necessary to cast your vote.
Vote "YES" on Measure S and Measure H
GO Advocates and a team of Oakland parents have been going door-to-door and tabling at local events to share about Measure S, Measure H, and the importance of voting YES on both.
What is Measure S? Measure S is a proposed ordinance that would authorize voting in school board elections by immigrants that are parents, legal guardians, or legally recognized caregivers of a child in Oakland. With a "YES" vote, you'll be in support of providing over 13,000 Oakland parents with the needed and deserved power to vote in school board elections, ultimately benefiting their children and every child in Oakland schools. 
Who are these Oakland immigrant parents leading the movement and advocating for their right to vote? If you missed our email last week, check out the story here to learn more about who these parents are and why you should vote "YES" on Measure S.
What is Measure H? This measure is the proposed reauthorization of the College and Career for All Initiative, which was adopted by Oakland voters in 2014 and has helped Oakland schools increase graduation rates and provide students with more career pathways. By voting yes, you'll be supporting an initiative that would continue funding for 14 more years without raising the tax rates property owners currently pay. Click here to learn more and, remember, VOTE "YES" ON H!
Get to know your school board candidates!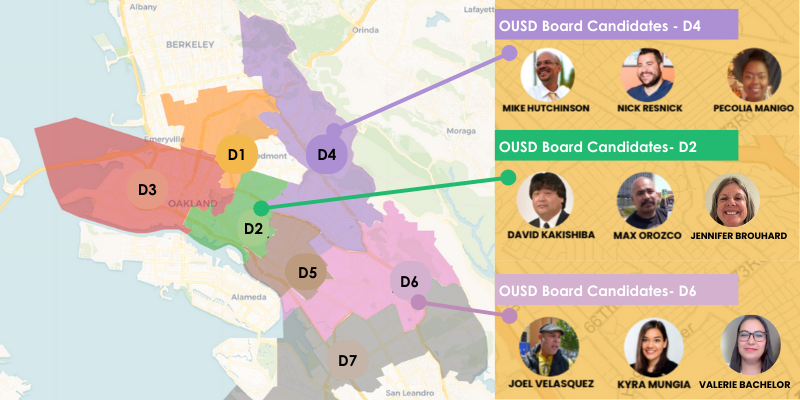 This year, seats are open on the OUSD school board in Districts 2, 4, and 6, with 9 candidates total running for election. Families In Action (FIA) recently hosted a school board candidate forum, providing Oakland community members with the opportunity to learn more about each candidate, their values, and their priorities in Oakland education. To learn more about the candidates' positions on Measure S, Measure H, and much more, click here.
Additionally, last month Oakland youth ran their own student-led candidate forum with all 9 candidates attending and answering important questions about their stance on key issues in Oakland schools. If you missed it, you can find the full video replay here.
Voting by mail? While you can mail your ballot in through the postal system, there's also the option to drop your mail-in ballot off at a location near you. Click here to find a local 24-hour drop box or learn more about voting by mail.
Voting in person? Election day is next Tuesday, November 8th! To find a vote center near you, click here.
En esta elección, los votantes de Oakland se enfrentan a grandes decisiones sobre el futuro de las escuelas de Oakland. Con solo una semana hasta el día de las elecciones, es crucial que tenga los recursos necesarios para emitir su voto.
Vote "SÍ" por la Medida S y la Medida H
GO Advocates y un equipo de padres de Oakland han estado yendo de puerta en puerta y participando en eventos locales para compartir sobre la Medida S, la Medida H y la importancia de votar SÍ en ambas.
¿Qué es la Medida S? La Medida S es una ordenanza propuesta que autorizaría votar en las elecciones de la junta escolar por inmigrantes que son padres, tutores legales o cuidadores legalmente reconocidos de un niño en Oakland. Con un voto "SÍ", estará a favor de proporcionar a más de 13,000 padres de Oakland el poder necesario y merecido para votar en las elecciones de la junta escolar, beneficiando en última instancia a todos ellos y a todos los niños de las escuelas de Oakland.
¿Quiénes son estos padres inmigrantes de Oakland que lideran el movimiento y defienden su derecho al voto? Si se perdió nuestro correo electrónico la semana pasada, consulte la historia aquí para obtener más información sobre quiénes son estos padres y por qué debería votar "SÍ" a la Medida S.
¿Qué es la Medida H? Esta medida es la reautorización propuesta de la Iniciativa de Universidad y Carreras para Todos, que fue adoptada por los votantes de Oakland en 2014 y ha ayudado a las escuelas de Oakland a aumentar las tasas de graduación y brindar a los estudiantes más caminos profesionales. Al votar sí, estará apoyando una iniciativa que continuaría financiando durante 14 años más sin aumentar las tasas de impuestos que pagan actualmente los propietarios. Haga clic aquí para obtener más información y, recuerde, ¡VOTE "SÍ" A LA H!
¡Conozca a sus candidatos a la junta escolar!
Este año, los puestos están abiertos en la junta escolar de OUSD en los distritos 2, 4 y 6, con un total de 9 candidatos compitiendo para las elecciones. Families In Action (FIA) organizó recientemente un foro de candidatos a la junta escolar, brindando a los miembros de la comunidad de Oakland la oportunidad de aprender más sobre cada candidato, sus valores y sus prioridades en la educación de Oakland. Para obtener más información sobre las posiciones de los candidatos en la Medida S, la Medida H y mucho más, haga clic aquí.
Además, el mes pasado, los jóvenes de Oakland organizaron su propio foro de candidatos dirigido por estudiantes con los 9 candidatos que asistieron y respondieron preguntas importantes sobre su postura sobre temas clave en las escuelas de Oakland. Si te lo perdiste, puedes encontrar la reproducción completa del video aquí.
¿Va a votar por correo? Si bien puede enviar su boleta por correo a través del sistema postal, también existe la opción de dejar su boleta por correo en un lugar cercano a usted. Haga clic aquí para encontrar un buzón local de 24 horas u obtener más información sobre la votación por correo.
¿Va a votar en persona? ¡El día de las elecciones es el próximo martes 8 de noviembre! Para encontrar un centro de votación cerca de usted, haga clic aquí.
Paid for by GO Public Schools Advocates